Safe access for regular inspection of drift eliminators and heat transfer packing is essential. Vistech will design and install access platforms to suit your specific requirement either in GRP or galvanised steel. Our GRP platforms are lightweight, strong and easy to install and are therefore ideal at roof level where there are potential weight restrictions.
Please contact us to speak to a technical sales engineer to discuss your specific requirements.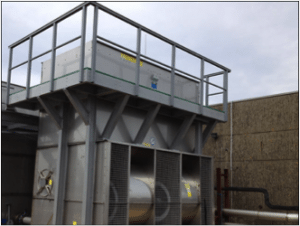 Providing operatives and contractors with good access to all parts of your cooling tower enables easier maintenance and provides a safer working environment. Vistech are able to design and install either hinged quick release access doors or standard toggle removable doors to either replace existing doors or provide additional access points. These can be installed either in the plenum of the tower for access to the sump or within the packing layer as a pack access door to promote the safe removal of infill packing from the tower for either cleaning or replacement.
In the vast majority of cooling towers when accessing the packing layer operatives will be working at height and will therefore require a safe platform to work from. Temporary platforms can be difficult to erect within the confined space of a cooling tower and can also become a significant cost of the cleaning contract.
Vistech are able to install a permanent Cleansafe floor below the bottom layer of packing which not only acts as a safe working platform from which operatives can safely remove the internal packing from the tower but also provides a level of support for the packing by spreading the load evenly across the Cleansafe floor platform.
Cooling tower performance is not impacted by the installation of the Cleansafe flooring and it makes deep cleaning of the tower far simpler. For further measures on ensuring that your cooling tower is performing at its best download our cooling tower maintenance guide for more information.