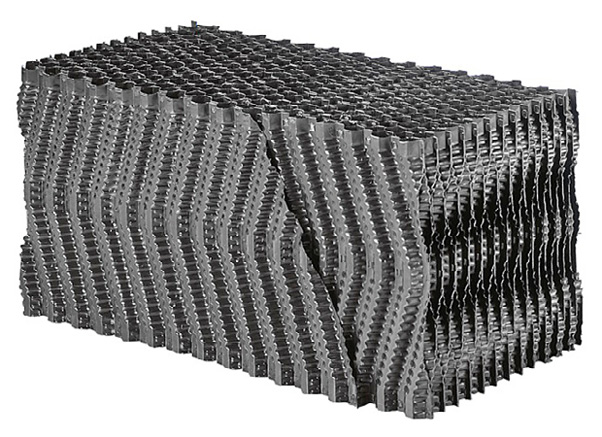 It is important that the packing is inspected regularly and replaced as necessary as the requirements of the ACOP L8 are:
"Scale formation results in loss of heat transfer, reduced flow rates, loss of efficiency and deposition/corrosion. Legionella can be associated with such deposits – the scale protects the bacteria and so reduces the effectiveness of biocidal treatment."
Vistech high performance packings cut operating costs and increase performance compared to original manufacturers packs. The polypropylene construction is environmentally friendly and the unique welded construction is more robust compared to glued or mechanically assembled packs. We are able to offer either in standard material or anti-legionella material.
Heat transfer packing standard construction
High performance characteristics
Tough welded construction plates.
Environmentally friendly HDPE construction
Small module size allowing easy handling during removal for cleaning & maintenance.
---
This NEW development in packing provides:-
Additional protection against a range of bacteria such as legionella.
The packing is impregnated with a biocide that is active for 3-5 years
Gives a level of protection previously not possible in this area of the tower which has a large surface area and is difficult to clean.
Note Anti-legionella Packing & Drift Eliminators are intended to aid water treatment and cleaning of the Cooling Tower and not replace it.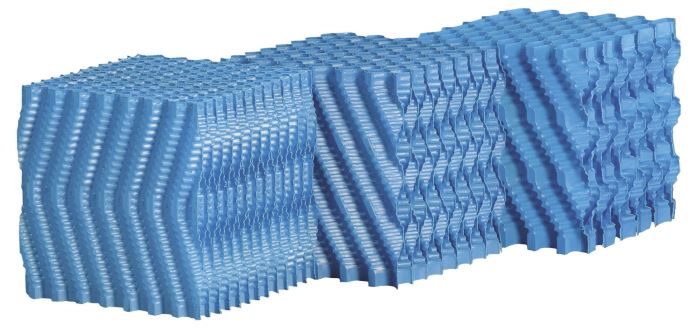 ---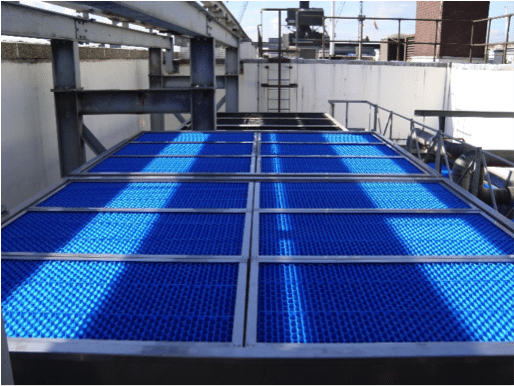 We are able to provide high efficiency drift eliminators to suit any make or model of cooling tower, with framed and unframed options in both standard and anti-legionella material.
The requirements of ACOP L8 are:
Drift eliminators should be well fitted and selected on the basis of their ability to reduce the release of small water droplets –there should be no visible drift released from the tower".
"Drift eliminators require particular attention with regard to maintenance so that aerosol release continues to be controlled. They should be inspected cleaned and maintained to ensure that they are free from biofouling, corrosion, scale and other deposits and are well seated and undamaged."
All Vistech Drift Eliminators:
Provide high efficiency elimination in compliance with ACOP L8
Tough plastic welded eliminator matrix
Anti-legionella option provided
Stainless steel framed option to protect the modules against damage when removed from the tower for cleaning and maintenance extending its useful life.