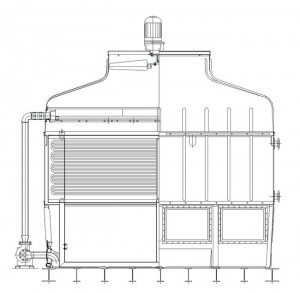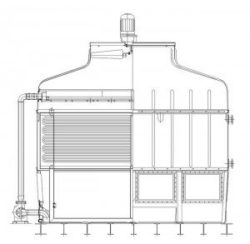 General Features
---
Low sound level
Low height
No vibration transmission
FRP Casing, reduced maintenance and total corrosion protection
Plastic internals
Configuration
---
Model

*

Dissip. (kW)
Dry Weight (kg)
Service Weight (kg)
Recirculation Pump (kW)
Fan Power (kW)
Length (mm)
Width (mm)
Height (mm)
Dim. Drawing
Plane DWG
Technical Features
EWK-C 144/2
26
650
1190
0.75
2.2
2125
1269
2525
Open
Download
[-]
EWK-C 144/3
52
750
1250
0.75
2.2
2125
1269
2525
Open
Download
[-]
EWK-C 144/4
73
900
1440
0.75
2.2
2125
1269
2525
Open
Download
[-]
EWK-C 225/3
99
1092
1789
0.75
3.0
2522
1557
2990
Open
Download
[-]
EWK-C 225/4
128
1262
2024
0.75
3.0
2522
1557
2990
Open
Download
[-]
EWK-C 225/5
165
1437
2264
0.75
3.0
2522
1557
3245
Open
Download
[-]
EWK-C 324/3
180
1466
2368
1.5
4.0
2895
1850
3425
Open
Download
[-]
EWK-C 324/4
203
1697
2695
1.5
4.0
2895
1850
3425
Open
Download
[-]
EWK-C 324/5
230
1929
3024
1.5
4.0
2895
1850
3710
Open
Download
[-]
EWK-C 441/3
218
1991
3280
2.2
7.5
3293
2150
3379
Open
Download
[-]
EWK-C 441/4
301
2291
3776
2.2
7.5
3293
2150
3379
Open
Download
[-]
EWK-C 441/5
383
2589
4202
2.2
7.5
3293
2150
3639
Open
Download
[-]
EWK-C 441/6
401
2889
4638
2.2
7.5
3293
2150
3869
Open
Download
[-]
EWK-C 680/3
383
3126
6070
4.0
7.5
3941
2319
4550
Open
Download
[-]
EWK-C 680/4
410
3593
6743
4.0
7.5
3941
2319
4820
Open
Download
[-]
EWK-C 680/5
450
4058
7415
4.0
7.5
3941
2319
4820
Open
Download
[-]
EWK-C 680/6
490
4525
8090
4.0
7.5
3941
2319
5050
Open
Download
[-]
EWK-C 900/3
492
3640
7145
4.0
11.0
4984
2020
4485
Open
Download
[-]
EWK-C 900/4
555
4189
7946
4.0
11.0
4984
2020
4485
Open
Download
[-]
EWK-C 900/5
559
4739
8750
4.0
11.0
4984
2020
4685
Open
Download
[-]
EWK-C 900/6
639
5290
9554
4.0
11.0
4984
2020
4885
Open
Download
[-]
EWK-C 1260/3
754
5757
11453
2 x 4.0
15.0
4285
3893
4770
Open
Download
[-]
EWK-C 1260/4
921
6586
12677
2 x 4.0
15.0
4285
3893
4770
Open
Download
[-]
EWK-C 1260/5
1109
7419
13909
2 x 4.0
15.0
4285
3893
4970
Open
Download
[-]
EWK-C 1260/6
1250
8251
15138
2 x 4.0
15.0
4285
3893
5125
Open
Download
[-]
EWK-C 1800/3
1046
7516
16408
2 x 4.0
22.0
5123
4300
4805
Open
Download
[-]
EWK-C 1800/4
1319
8622
18022
2 x 4.0
22.0
5123
4300
5065
Open
Download
[-]
EWK-C 1800/5
1486
9727
19631
2 x 4.0
22.0
5123
4300
5065
Open
Download
[-]
EWK-C 1800/6
1610
10832
21242
2 x 4.0
22.0
5123
4300
5225
Open
Download
[-]

*

Heat rejection at the following conditions: Tin: 35,0 ºC, Tout: 30,0 ºC, Twb: 24,0 ºC
Additional Equipment
---
Sound Attenuator.
Access ladder & Hand rail to the fan motor.
Vibration Switch.
Electric water control level in the Basin .
Winter Pack (Thermostat & immersion heater)
Variable speed drives.
Water treatment systems
Working Principles
---
Evaporative cooling towers are the most energy efficient means of cooling water. Hot process water or condenser water from a chiller enters the distribution system at the top of the cooling tower and falls by gravity in counter-flow to the air being drawn or forced through the cooling tower by the fan. As the air passes the water a small proportion is evaporated cooling the remaining water which is collected in the cooling tower sump. The cooled water is then returned to the process or chiller.
The difference between the required cold water temperature and the wet bulb temperature (called the approach temperature), is significant in determining the size of the tower. The smaller the approach the larger the required heat exchange surface. The approach temperature must be at least 3-4 °C.
The heat exchange surface known as packing provides close contact between the air and water in open towers. High efficiency film packings provide a large surface area over which the cooling water is spread increasing the evaporative cooling effect. Splash packings can be selected for applications where the water quality is poor.